An organization's employee relations department is usually part of its HR or legal department. In general, the employee relations function is responsible for:
Establishing workplace policies regarding employee conduct
Conducting an investigation into any allegations of improper conduct (such as allegations of sexual harassment or discrimination)
Grievances and disputes between employees or between employees and management are handled and resolved.
Employee Relation Meaning, What is Employee Relation
Employee relations refer to the relationship shared among the employees in an organization. The employees must be comfortable with each other for a healthy environment at work. It is the prime duty of the superiors and team leaders to discourage conflicts in the team and encourage a healthy relationship among employees.
The Purpose of Employee Relation is, The Purpose of Employee Relation is MCQ
Employee relations is an area within the human resources field. The purpose of employee relations is to strengthen the employer-employee relationship through identifying and resolving workplace issues, measuring employee satisfaction and morale, and providing support and input to the company's performance management system. Employee relations is important because human resources strategy and organizational success depend heavily on the productivity and engagement of a company's work force.
Importance of Employee Relation
Employee relations are important because they form the foundation of trust between an organization and its employees. When workers feel respected by their supervisors for their contributions to the organization's success, they tend to reciprocate this respect with hard work and loyalty towards the company.
Negative employee relations impact business performance in several ways: Unhappy employees can lead to higher rates of absenteeism and turnover. HR Acuity estimates that it takes approximately 45 days for new employees to become acclimated to their new job. This makes a high turnover rate expensive and lowers productivity.
Better Employee Relation can Lead to MCQ, Better Employee Relation Can Lead to
There are numerous advantages to good employee relations. Let's take a look at some of the most significant:
Employee engagement: Highly-engaged employees make your company more profitable.
Fewer conflicts: Conflicts in the workplace are detrimental to your business. Usually occurring between employer and employee, these conflicts only get bigger if neglected.
Strengthens confidence: In an environment of trust, employees are empowered and confident. The key to this empowerment is found in providing opportunities for autonomy and increased responsibility.
Improves culture: All of your employee relations efforts will result in a thriving company culture. This harkens back to the trust you're building.
Work-life balance: Great employee relations can decrease the pressure to overwork. If employers express their support for a good work-life balance, they reduce the risk of employees becoming demotivated and burnt out.
Advocacy: With improved employee relations, your employees will advocate for your company. This, in turn, builds your brand, expands your reach, and builds your social media presence.
Inclusivity: Your healthy work culture includes every employee. Create an environment that allows everyone to participate and thrive.
Prepare for common employee relations issues: With good employee relations, you can identify problems and concerns early rather than waiting for a crisis.
Communication Strengthens the Employer & Employee Relation in The
To improve communication and drive improved engagement, following are the best practices:
Ensure employees are kept in the loop about any proposed changes to expectations
Encourage open communication
Continue to provide feedback and recognition
Promote open discussion and sharing
Employee Relation Strategy
Follow the following five steps to ensure that your employee relationship management leads to increased employee wellbeing and performance:
Set the tone from their first day: First impressions matter. Subjecting an excited new employee to endless paperwork and meaningless presentations won't capitalize on their initial enthusiasm.
Provide positive feedback: More often than not, the focus of evaluations are on how an employee can improve and what they need to do better. In addition to this, employees need to hear about the things that they do right—on a regular basis.
Improve communication: Communicating with employees solely through memos or emails is not only inefficient, but also impersonal. Workers will easily feel as if they are not an integral part of your company if all you ever do is talk at them.
Offer career development: Companies that take an active role in offering and encouraging career development for their employees will find that they end up with a more motivated and well-equipped workforce.
Help them be happy: If your employees are happy, they will be more engaged as well as more productive at work. The brain of a person in a positive mood simply performs better than that of an unhappy person.
To Read more such informative Blogs Click Here

hradvosrs4u Blogs
Better Employee Relation can Lead to Low Cost of Labour
Enhanced labor relations result in improved work productivity, and work profits. It also plays an important role in customer retention. When the employees feel satisfied with their work, they pay attention to the needs of the clients, resulting in a positive customer experience. Engaged employees are more committed to their tasks and this growth can bring better outputs and revenues for the company.
Employee Relation Job Description, Employee Relations Manager
The Employee Relations Manager will facilitate and manage employee relations on behalf of the company.
Supervisory Responsibilities:
Trains and oversees the work of assigned staff.
Conducts performance evaluations that are timely and constructive.
Duties/Responsibilities:
Analyzes information and data necessary to define and discern cost and policy implications of negotiations and disputes. This may include management and union proposals, pay scales and wages, benefits, working conditions, and other mitigating circumstances.
Uses surveys, interviews, and other studies to conduct research regarding human resource policies, compensation, and other employment issues. After analyzing the information, makes recommendations on changes.
Researches and explains laws and legal affairs concerning employment to managers, supervisors, and employees.
Advises and trains managers and supervisors in best employee relations practices and strategies for managing supervisor problems and employee grievances. Develops further training as needed.
Represents organization in contract negotiations, meetings, and negotiations with employee and labor organizations.
Collaborates with leadership on matters of policy and terms of memoranda of understanding before and throughout negotiation process.
Collaborates with legal counsel and departments in the preparation for and participation in negotiation with employee and labor groups.
Performs other related duties as assigned.
Required Skills/Abilities:
Excellent oral and written communication skills.
Thorough understanding of state and federal laws concerning labor relations.
Ability to comprehend, interpret, and apply the appropriate sections of applicable laws, guidelines, regulations, ordinances, and policies.
Thorough understanding of negotiation techniques.
Thorough understanding of dispute resolution and compensation administration.
Ability to remain tactful, calm, and persuasive in controversial and/or confrontational situations.
Education and Experience:
Bachelors degree in Employee Relations, Human Resources or related field required.
Four years of professional human resource administration, including two years in employee relations preferred OR its equivalent through training, education, and other experience.
Employee Relation Pdf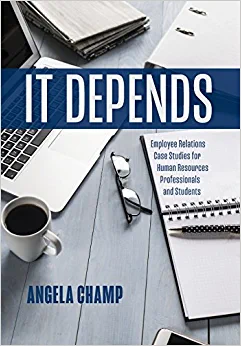 Anyone who thinks that Human Resources is boring or transactional clearly is not paying attention. The classic answer to just about every Human Resources issue is "it depends," and this collection of case studies demonstrates how different circumstances, different contexts, or different cultures and laws can affect the outcome of any scenario.