The 9 Box Grid is considered as best Talent Management Grid and it practice by most of the Talent Management Professionals across the industries.
Tools for Talent Management, 9 Box Grid
The 9 box grid is a well-known talent management tool in which employees are divided into nine groups, based on their performance and potential.
When assessing employee performance, managers often pay attention to two things. First, how well they perform today, and second, how well they are likely to perform in the future (i.e. their growth potential).
For example, hardworking employees who do well in their role but have little growth potential are great to have in your team, as well as All-stars who perform well and have great potential. However, low-performing employees with low potential will require a lot of management attention and are unlikely to improve. They require a different approach.
The 9-box grid provides a framework that helps to manage all employees in an organization. In the next sections, we will explore how to assess performance and potential.
The First Phase of Talent Management is, The First Phase of Talent Management
Planning is the first step in the process of talent management. It involves the following identifying where the gaps lie – the human capital requirement, formulating job descriptions for the necessary key roles to help guide sourcing and selection and developing a workforce plan for recruitment initiatives.
Talent Management Usually Referred to as
Talent management is the attraction, selection, and retention of employees, which involves a combination of HR processes across the employee life cycle. It encompasses workforce planning, employee engagement, learning and development, performance management, recruiting, onboarding, succession and retention.
Talent Management is Important for
Enhances your company's performance
Drives innovation
Ensures team productivity
Motivates others to grow
Helps fill company roles
Role of Talent Management
There's no doubt that talent management is gaining importance in all sectors of the business world.
Demographic changes, to include four generations working together, and the increasing difficulty of finding qualified people for specialized positions, have turned this HR strategy into its own important process.
Now more than ever, it's critical to recognize, promote, and retain talent within a company. In this post, we will summarize the best practices a leader can implement in order to successfully take on today's challenges.
Role of Leaders in Talent Management, Talent Management Role
The expert Leaders outlines the top 4 priorities for Talent Management are:
Acquire the right talent and manage spend.
Build human-centric leadership.
Support change management.
Create an aligned talent management partnership.
To Read more such informative Blogs Click Here

hradvosrs4u Blogs
Talent Management Focus to Create a Workforce Who Will
Creating a motivated workforce that will stay with your company for a long time is the primary goal of talent management.
The Concept of Talent Management was First Implemented
The concept of talent management (TM) refers to predicting the amount of human capital an organization will need and planning how to meet those needs. Over the past 10 years, the field has gained interest and significance among practitioners as well as in scholarly debate, particularly following McKinsey's 1997 research and the 2001 book The War for Talent.
Gender Neutral Policies for Talent Acquisition & Talent Management
Gender equality is a very complex and diversified issue due to its relevance in every sphere of the existence. India ranks 130th amongst 188 countries in Human Development Index and 127th among 146 countries in gender inequality index of UNDP's Human Development Report 2015.
So, whether your organization is just beginning its diversity and inclusion journey or you're looking for additional strategies to improve your diversity program, it's always a good idea to brush up on the history, needs, and concerns of historically marginalized groups to better understand, engage and recruit in an increasingly diverse talent landscape.
Source of Talent Management
Talent sourcing is much like lead generation in sales. Through a variety of methods – online research, networking, referrals, etc. – recruiters proactively locate individuals who may be a good fit for their organization. Ideally, this process occurs even when positions are not currently available so that as soon as a vacancy occurs or a new role is created, there's a pool of qualified candidates to fill it.
Talent Management Companies, Talent Management Company, Talent Management Companies in India, Talent Management Company in India, Talent Management Agency, Top Talent Management Service Companies
There are many companies, startups are now into the Talent Management Field seeing the potential and importance of Talent Management in success of todays organizations. Following some of the Best Talent Management Companies who are pioneer in the talent management field from decades.
HRadvisors4u also emerging as one of the fast growing Talent and People Management consulting companies with a client base spreading over all India.
The Term Talent Management was Coined by
According to a McKinsey report published in 1997, talent management was a term coined in that year. Human capital was, and continues to be, viewed as an organization's greatest asset from that moment.
Talent Management is an example of which Analytics
Talent analytics is the term for a data-focused approach to decision-making regarding current and future employees. By analyzing past employee behavior to predict future performance, talent analytics is often used by HR, hiring managers, and recruiters to find the best type of candidate.
According to Deloitte, "Four percent of organizations surveyed believe they have predictive talent analytics capabilities today. Only 14% of companies have any form of talent analytics program in place.
Talent Management Ppt
Effective Talent Management Strategies Guide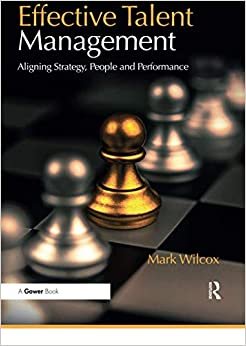 Effective talent management is about aligning the business's approach to talent with the strategic aims and purpose of the organisation. The core rationale of any talent strategy should be to have a direct positive impact on the organisation's goals but in many cases this is not so. The ideas, principles and approaches outlined here will enable the reader to understand the strategic nature of talent and design a response that meets the needs of their own organisation.