A career in human resources, or HR, can provide you with various opportunities for growth within a company or organization, with positions ranging from entry-level to administrative titles. A chief human resource officer (CHRO) is a member of a company's HR department who is in charge of overseeing human resources employees and operations. If you're interested in pursuing a leadership position in human resources, it can be helpful to understand the role and responsibilities of a CHRO to determine if HR management is the right career path for you.
CHRO Path
Here are some steps you can follow to start your path toward a career as a chief human resources officer:
Earn a bachelor's degree: The first step toward becoming a chief human resources officer is to enroll in and complete a bachelor's degree. Many CHROs have an extensive academic background which most frequently begins with a four-year degree, usually in human resources or a related field, such as social work or business administration. A typical bachelor's degree in these disciplines can take anywhere from three to five years depending on the program.
Complete an HR internship: The next step in becoming a CHRO is to complete an internship, either during or after completing your bachelor's degree. Human resources departments frequently hire temps (or temporary employees) in the form of interns to assist with many of the more intricate HR-related tasks, such as onboarding, filing and scheduling. An internship in human resources can boost your hiring potential by giving you additional workplace experience and introducing you to professionals in the field of HR.
Get HR certification: Another important step in becoming a chief human resources officer is to earn relevant HR certifications. There are plenty of HR certifications to choose from, with the most common being the HRCI (Human Resources Certification Institute) certification program, where you can earn multiple credentials in different levels of HR. Certifications include the entry-level Associate Professional in Human Resources certificate, the Professional in Human Resources certification and the advanced Senior Professional in Human Resources certificate.
Earn a master's degree in HR: Due to the vast responsibilities of a CHRO, it's common for companies to require candidates to hold a master's degree in human resources in order to qualify for the position. There are several master's programs in HR available across the country, with many offering virtual schooling options for those working while they pursue their degree. A typical master's program in human resources can take anywhere from one to four years depending on the program and your credentials, with the average being about two years.
Work your way up to a CHRO position: Once you've earned all of your academic and experience-based credentials, the final step in becoming a chief human resources officer is to work your way up to a senior HR position. Upon earning a master's degree, you can likely find a full-time job as an HR representative at a company or organization, where you can demonstrate your skills and expertise in the field of human resources. It's important to produce quality work during this time to encourage your chances of earning promotions and eventually having enough experience to qualify for a position as a chief human resources officer.
CHRO Full Form, CHRO Meaning, What is CHRO
A chief human resources officer (CHRO) is a professional whose primary responsibilities are to take a leadership role in the HR department of a company or organization. They oversee entire HR departments, where they manage several aspects of the employment process, such as recruiting, hiring, acquiring benefits, training and employee relations. The CHRO usually has an extensive background in human resources and management-related roles, giving them the necessary expertise to lead such vast departments. They frequently work alongside executives, such as the chief executive officer (CEO) or chief financial officer (CFO), to provide employee-based insights on prospective company-wide decisions.
CHRO Job Description
As a central figure in the administrative side of their organization, the chief human resources officer has several important responsibilities. Here are some of the main duties a CHRO has in the workplace:
Develop training programs: The chief human resources officer creates and evaluates various methods for training new hires. When developing training procedures, it's important for the CHRO to make the process as direct, simple and informative as possible to ensure new employees have adequate preparation before starting in their new roles.
Recruit new hires: The CHRO also helps recruit new hires, in which companies advertise their open positions, prospective salaries and benefits to attract qualified candidates, typically on job searching sites. As part of the recruitment process, a CHRO may assess common application materials, such as cover letters and resumes, and assist junior HR professionals in narrowing down applicants.
Interview new employees: One of the primary duties of a chief human resources officer is to sit in on employee interviews, where they can provide helpful insight and expertise to junior HR staffers throughout the interview process. A CHRO may ask their own questions during an interview or simply sit back and observe, providing the hiring team with their opinions after the meeting concludes.
Hire new employees: Another important duty of a CHRO is to assist with the hiring procedures after the company has formally offered candidates employment. They may oversee several steps of the hiring process, such as onboarding, negotiating salaries and training to ensure that junior HR professionals are following the necessary steps of the hiring procedure and that new hires can fully assimilate into their new workplace.
Enforce government work regulations: Perhaps what HR is most known for, another important duty of a CHRO is to enforce work-related government regulations and procedures. These include protocols related to work hours, breaks and other elements of workers rights that are necessary for a company to operate ethically within the confines of the law.
Organize team-building activities: A CHRO may also take the lead when it comes to organizing team-building activities, with the intention of encouraging inter-employee relationships and boosting company morale. They often oversee the junior HR employees' development of these activities, providing ideas and strategies to get the most out of each team-building project or program.
Supervise HR employees: As their title suggests, the chief human resources officer at a company or organization is the foremost authority on all HR-related activities, issues and procedures, including the actions of those in junior HR positions. The CHRO serves as a resource to the HR department, where they can use their expertise in the field to assist employees as they handle various workplace operations, such as hiring, training, reporting and team-building.
To Read more such informative Blogs Click Here

hradvosrs4u Blogs
CHRO Salary, CHRO Salary in India
Based on Ambisionbox Survey: the CHRO Salary in India ranges between ₹ 18.2 Lakhs to ₹ 102.0 Lakhs with an average annual salary of ₹ 91.5 Lakhs.
Salary estimates are based on 182 Salaries Received from CHRO's.
The Emphasis that any CHRO who Aspires to Become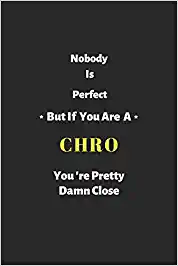 A Must read book for every CHRO