HR Full form, Full Form of HR
The full form of HR is Human Resources. It is a word used to define the people who make up the company's employees; each company executive is a resource for any organization. The person involved in hiring the applicants, overseeing management activities and providing formal feedback to the new employees is named as the HR Manager.
HR Full Form in Job
In every organization, HRM (Human Resource Management) seems to be the most important department. It recognizes each company employee as its resource. A business is much more likely to succeed if the workers are genuine and dedicated to the job. Staff is the firm's resources that should be recruited, fulfilled and maintained.
HR Manager Full Form, HR Manager Full Form in Company
The Full Form of HR Manager is Human Resources Manager.
Human Resource Managers are professionals who plan for new staff, interview and hire them accordingly to cultivate a healthy work environment where everyone can thrive. They also consult executives on strategic decisions affecting all management levels to create sustainable change within their business or company.
What is HR Analytics
HR analytics is the process of collecting and analyzing Human Resource (HR) data in order to improve an organization's workforce performance. The process can also be referred to as talent analytics, people analytics, or even workforce analytics.
This method of data analysis takes data that is routinely collected by HR and correlates it to HR and organizational objectives. Doing so provides measured evidence of how HR initiatives are contributing to the organization's goals and strategies.
What is HR in MBA, MBA in HR
An MBA in HR or human resource management is a business degree with a particular focus on human resources. It is a two-year post-graduate program that focuses on recruitment, legal issues management, and strategic human resource management (SHRM) and provides training and guidance in managing the workforce of an organisation.
Communication between HR manager and Salesman is an Example of Diagonal communication.
To Read more such informative Blogs Click Here

hradvosrs4u Blogs
MBA in HR Syllabus, MBA in HR Subjects
Semester 
MBA HR Syllabus
Semester 1
Management Process & Organisation Theory
Individual Behaviour in Organisation
Managerial Economics
Accounting and Finance
Business Environment
Managerial Communication and Skill Development
Quantitative Techniques in Human Resource Management
Manpower Planning and Resourcing
HR Audit
Semester 2
Research Methodology
Corporate Social Responsibility and Business Ethics.
Marketing Management
Production and Operations Management Economics of Human Resources
Managing Interpersonal and Group Processes Fundamentals of Industrial Relations Compensation Benefits, Performance Management & Appraisal
Talent Management and Employee Relations, Change Management
Semester 3
Strategic Management
Entrepreneurship Development
Human Resource Information System
Training and Development
Performance Management and Competency Mapping
Compensation and Reward Management
Labour Laws-I.
Semester 4
Organisational Change and Development Strategic Management
Contemporary Employment Relations
Human Capital Management
Labour Laws-II
Cross-Cultural and International HRMDissertation/ Industrial Training on Contemporary Issues in Human Resource Management & Field Study.
MBA in HR Syllabus
MBA in HR Fees
MBA in Human Resources programs is available in a variety of formats. Each delivery method for an MBA in HR is geared to a certain set of students.
| | |
| --- | --- |
| Types of MBA | Average Fees (INR) |
| Executive MBA in HR | 15,00,000 – 27,00,000 |
| Distance MBA in HR | 40,000 – 70,000 |
| Online MBA in HR | 40,000 – 50,000 |
| Full Time MBA in HR | 3,00,000 – 10,00,000 |
| 1 Year MBA in HR | INR 7,00,000 – 24,00,000 |
MBA in HR Fees
Best Colleges in India for MBA in HR
Top 10 MBA HR Colleges In India: Eligibility and Course Fee
IGNOU MBA in HR, MBA in HR IGNOU
One of IGNOU's most common courses is the distance MBA with a Human Resource specialization. Students will pursue a distance MBA in HRM after completing a bachelor's degree in any discipline. The program is two to three years long, with a minimum of two years and a maximum of three years. Students who complete an IGNOU distance MBA in Human Resource Management will work in any institution or industry's personnel management department. Admission to a distance MBA in Human Resource Management has no upper age limit. kindly visit and refer only to the official website of IGNOU.
MBA in HR Salary in India
The salary of an MBA in HR begins from INR 2,50,000 however with experience it has a tendency to rise. The salary may reach INR 8,00,000 to INR 10,00,000 after 5-6 years.
How to Get HR Job Immediately After MBA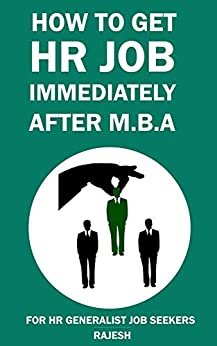 Getting an HR job immediately after completing MBA is a dream for every HR student. In this book, I have shared what I have learned in my job experience which I didn't learn in my college. Educational institutions focus only on theories, not on practicals. So there are so many MBA HR students are struggling to get their first HR job.